David Aldous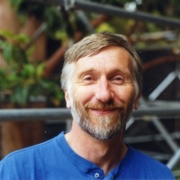 From https://en.wikipedia.org/wiki/David_Aldous:
David John Aldous, FRS (born 13 July 1952) is a mathematician known for his research on probability theory and its applications, in particular in topics such as exchangeability, weak convergence, Markov chain mixing times, the continuum random tree and stochastic coalescence. He entered St. John's College, Cambridge, in 1970 and received his Ph.D. at the University of Cambridge in 1977 under his advisor, D. J. H. Garling. Since 1979 Aldous has been on the faculty at University of California, Berkeley.
He was awarded the Rollo Davidson Prize in 1980, the Loève Prize in 1993, and was elected a Fellow of the Royal Society in 1994. In 2004, Aldous was elected a Fellow of the American Academy of Arts and Sciences. In 2012 he became a fellow of the American Mathematical Society.
Schedule:
Probability, Outside the Textbook
Tuesday, October 16, 2018
3:00PM-3:50PM
1420 Biomedical and Physical Sciences Building (BPS)

Some of My Favorite Open Problems in Mathematical Probability
Thursday, October 18, 2018
10:20AM - 11:10AM
C405 Wells Hall (WH)
July 19, 2022
Summer Internship News 2022
A summer internship is an important way to gain valuable knowledge outside the college classroom. This summer, some of our STT PhD candidates have earned the opportunity to intern with organizations and companies across the country.
July 14, 2022
2020-2021 Harkness Award for Outstanding Teaching
PhD candidates Sarah Manski and Sumegha Premchandar were recently presented with the 2020-2021 William L. Harkness Award for outstanding teaching by a graduate student. The award is made possible by a generous gift from William Harkness, a doctoral alumnus of the Statistics and Probability department. Recipients are chosen for their remarkable teaching based on student evaluations and faculty observations of teaching.